We Have Master Technicians to Handle All Your AC Needs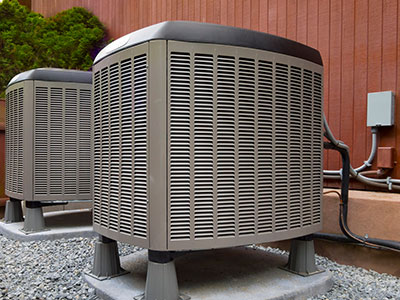 Often referred to as the "Heart of the San Ramon Valley", Danville is a wonderful place to live. During the 130 years since it was founded, Danville has grown into a thriving community with a small town feel. But, when the temperature outside rises into the 90s, having a properly working air conditioner is essential to a happy summer.
Since 1979 the experts at Rivers Plumbing, Heating and Air have been providing exceptional air conditioning services to home owner in Danville.
As a family-owned and operated business, we know first-hand how important it is for your family to receive quality and reliable air conditioning service, and with each client interaction we strive to provide just that.
Air Conditioning Installation
Choosing a new air conditioning system for your home is a big decision. The money and time that you invest into this one choice is considerable. The unit that you choose will be the one that you and your family count on each summer for at least eight years. There are many things to consider when making this decision. Not the least of which is:
Efficiency: Air conditioners are among the most expensive appliances to run. First, narrow your choices by the units that are large enough to cool the area that you need cooled and from there look at those that are the highest in energy efficiency.
The master air conditioning technicians at Rivers Plumbing, Heating and Air have the skills and the comprehensive knowledge to provide you with the information that you need to make the right decision about the best air conditioning unit for your home. Once you have make your decision, we will professionally and expertly install your new air conditioner.
Air Conditioning Maintenance
We recommend having your system serviced by one of our outstanding technicians at least one time per year, and preferably during the spring time to give plenty time to get your system in top working order before the summer temperatures heat up.
DANVILLE AIR CONDITIONING REPAIR
There are so many reasons that your air conditioning unit might breakdown and need repair. Which is another reason that regular maintenance appointments are important to maintain the longevity of your system. While providing maintenance to your air conditioning system, the expert Rivers Plumbing, Heating and Air technician has the skills and the expertise to recognize repair needs and can catch problems before they escalate. Regardless of the make or model of your air conditioner, our team can handle any repair need that you have. Some reasons your air conditioner might need repair are:
Refrigerant Leaks
Inadequate Maintenance
Electric Failure
Drainage Problems
When you contact Rivers Plumbing, Heating and Air you will be treated with courtesy and respect. When we schedule you for a service call, we will give you a timeframe of when to expect your technician. We understand that your time is valuable and we will call you when the technician is on his way, to further specify his ETA. Each of our red vans with yellow lettering is equipped with all of the tools and equipment that our technicians need to provide you with outstanding service and we will always being the project with an up-front pricing report, so you know exactly how much to expect the visit to cost before the work has begun.