Compared to other areas of California, the winters in Walnut Creek are pretty mild. In fact, the National average for snowfall each year is 27 inches and in Walnut Creek is a measly 2 inches. But, those mild winter temperatures can quickly become uncomfortable if you don't have a properly working heating system.
For 35 years now, homeowners in Walnut Creek have trusted all of the heating services to the family owned and operated business Rivers Plumbing, Heating and Air. No matter if your heating needs include maintenance, installation, or repair – our team can manage anything! From the moment you call our office until the time our technician leaves your residence or business, we pledge to offer the finest customer satisfaction.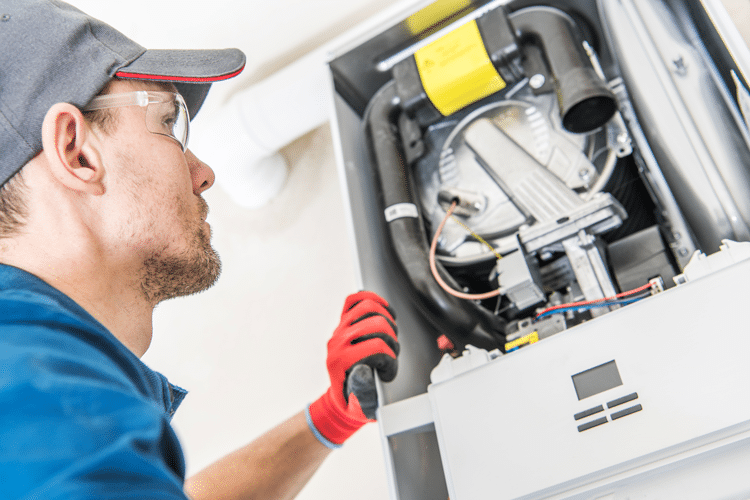 For over 30 years we have been the #1 Walnut Creek heating contractors
Since 1979 the homeowners of Walnut Creek have trusted the experts at Rivers Plumbing, Heating and Air with a wide variety of heating needs. Whether it is heating maintenance, repair, or installation our team of highly-trained technicians has the skills and the knowledge to provide superior service. We are proud to have earned a solid reputation for delivering high-value service and quality support. When you see our red van with yellow lettering arrive at your location, you can trust that your service needs will be professionally and thoroughly addressed.
The process of deciding on which heater to purchase for your home involves many considerations, the first and most important of which is size. If you purchase a heater that is too big for your home, it will lead to less efficiency in your system and quicker burnout. Unfortunately, this is the number one mistake that homeowners make when they purchase a new heating system. As a matter of fact, the EPA estimates that an average of 20% of energy is wasted every year because over half of the heating systems currently in use in home are over-sized.
If you are thinking about having a new heating system installed, it is important to think about:
Let the master technicians at Rivers Plumbing, Heating and Air help you to determine which size heating system is right for your home.
Once you have finally made the choice of which heating unit to have installed in your home, the next step is to ensure the longevity of that system. To do this, you need to outline and implement a regular schedule for maintenance checks. At Rivers Plumbing, Heating and Air we recommending having your heating system maintained at least one time per year, during the fall in preparation for the winter. However, the more regularly your system receives maintenance checks, the more efficient it will operate.
During a routine maintenance call you can expect a check of:
Electrical Connections
Lubrication
Condensate Drain
System Controls
You definitely don't want to be caught without a working heating system when the winter months hit, and especially not due to your system needing extensive and costly repairs. Contact us today to schedule your heating maintenance service call.
While regular maintenance is the best way to ensure that your heating system is in top working condition at all times, regular wear and tear is eventually going to lead to necessary repairs. After all, your heating unit is just like your car, it is a complicated piece of mechanics that has several working parts and pieces. Regardless of the model or the make of your heating system, the experts at Rivers Plumbing, Heating and Air can professionally and efficiently locate the cause and provide the solution. Our team has more than 30 years of experience handling all types of heating repair needs, and we are confident we can help you with yours!