Don't Get Stuck in the Cold!
Let Us Ensure Your Heating System is Working Properly
Our team is the group of clean, courteous and experienced heating contractors that you're looking for to get the job done right, the first time!
With the average snowfall per year in Danville being only two inches, you can safely say that the winter weather is mild. However, if you get caught in December without a properly working heater, the amount of snow is irrelevant – it's just plain cold!
The professionals at Rivers Plumbing, Heating and Air have proudly served the heating needs of Danville homeowners since 1979. With more than 30 years of experience managing the installation, repair, and maintenance of all types of heating systems, homeowners and businesses alike look to us as their expert heating team.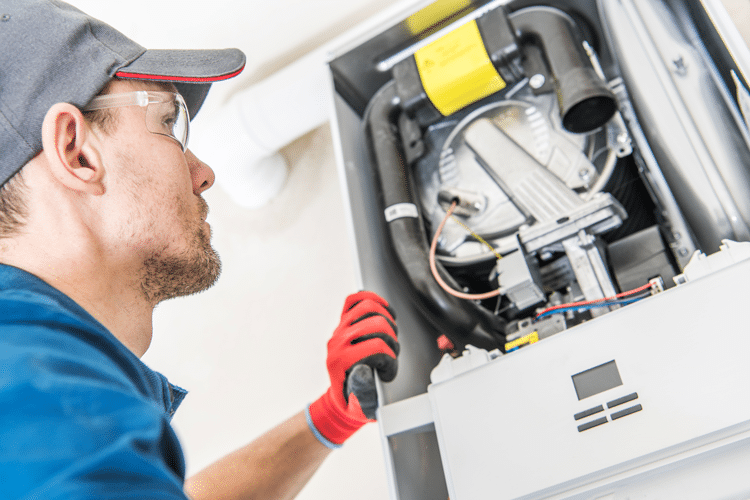 HEATING INSTALLATION SERVICES
The most important consideration when purchasing a new heating system is size. Purchasing a system that is too big for your home will cost you more to operate and maintain. However, this is one of the most common mistakes that homeowners make. In fact, the EPA estimates that 50% of currently installed heating systems are too big for the homes they heat, resulting in 20% wasted energy annually. It is pretty common for people to think "bigger is better" or, "if it's not broken don't fix it" however, these adages do not hold up when it comes to your heating system.
Some of the major factors to consider when purchasing a new heating system include:
The average heating system will last for eight to twelve years, and each time you replace your system it is important to consider the number of people in your home, and the amount the system is used. Don't just replace your old system with a newer version of itself. And, don't hesitate to contact the experts at Rivers Plumbing, Heating and Air for more information or, to have any questions answered. Helping to inform our customers is our favorite part of the job!
Heating Maintenance Services
Once you have finally decided on a new heating system and you have had it professionally installed by the experts at Rivers Plumbing, Heating and Air you want to make sure to protect that investment. The best way to do this is to have it regularly checked and maintained. We recommend having your heating system professionally serviced in the Fall, so that any problem areas can be identified and addressed before the weather starts to cool off. During a routine maintenance call our technicians will use their years of experience and training to thoroughly check your system and make sure that each component is as it should be.
A maintenance check should include:
Electrical Connections
Lubrication
Condensate Drain
System Controls
Your heater is a complex piece of mechanics and each piece relies on another so that the entire system works properly. Without regular maintenance, you could be facing significant and expensive damage, which may result in needing repairs or a complete replacement.
Regardless of the type of heating system that you have, make or model, the highly-trained team of technicians at Rivers Plumbing, Heating and Air will provide superior repair services. Often times, we can answer your request for service with a same day appointment. We know how important it is for you and your family to be comfortable in your home, especially during the cold months. Which is why our technicians are committed to arriving to your location within a specified window of time, with the right tools and training to expertly diagnose and repair your system breakdown. While having a routine maintenance schedule in place for your heating system can help to reduce the need to for extensive repairs, your heating system is just like any other piece of mechanics and will require repair eventually. And, Rivers Plumbing, Heating and Air will be there when it does!
Call the Danville Heating Repair Experts @ Rivers Inc.
Since 1979 our family-owned and operated business had been a friendly face to the homeowners of Danville. For any type of heating installation, repair, or maintenance project, Rivers Plumbing, Heating and Air has the tools, the knowledge, and the training to handle it. When you need reliable and quality service, coupled with friendly and honest support – look for the red vans with the yellow lettering, look for Rivers Plumbing, Heating and Air.