Don't Wait Until Winter!
Get Your Heating System Checked By Professionals
It's pretty safe to say the winters in Pleasanton are relatively mild compared to other areas in California. With the average snowfall being 25 inches less than that of the National average, it's downright balmy! Unless, those temperatures have fallen at a time when your heating system is malfunctioning.
Since 1979, the homeowners of Pleasanton have counted on the highly-trained team at Rivers Plumbing, Heating and Air with all of their heating needs. Whether it be heating installation, repair, or maintenance the master technicians at Rivers can handle it all.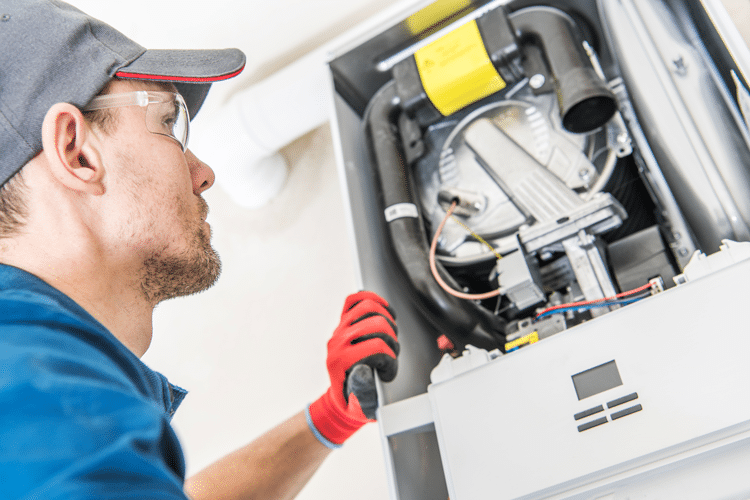 When purchasing a new heating system for your home the number one thing to consider is size. Most homeowners will simply replace their old system with a newer version and not pay any attention to the BTUs of either or, how many BTUs they really need to heat their home. In fact, the EPA estimates that nearly one-half of all existing heating systems installed in home now are over-sized and are causing a 20% loss of energy per year.
When purchasing a new heating system you should consider:
A new heating unit will last anywhere from eight to twelve years, and a lot can happen during that time.
Heating Maintenance
When you have finally chosen the correct heating system for your home, the professionals at Rivers Plumbing, Heating and Air want to help you to protect your investment. The best way to do this is to establish a schedule of regular maintenance visits. During a maintenance visit, our technician will check the components of your unit to make sure that everything is working properly. Having this done on a regular basis will reduce the chances of small deficiencies escalating into major breakdowns.
In fact, a typical maintenance check will include:
Electrical Connections
Lubrication
Condensate Drain
System Controls
At Rivers Plumbing, Heating and Air we recommend having your heating system serviced during the fall each year, to get it ready for the cold temperatures during the winter.
No matter the make or model of your heating system, the master technicians at Rivers Plumbing, Heating and Air can manage any repair needs that you have. We know how important it is to have your heating system in properly working condition, especially when it is winter time. This is why we offer same day appointments and 24-hour service. Each one of our red service vans is equipped with the right tools to efficiently handle your repair service call. Keeping a maintenance schedule is important to reducing the chances of major breakdowns, however, due to regular wear and tear your heating system will eventually require repair. And Rivers Plumbing, Heating and Air can help with any repair needs that you have!
For more than 30 years the exception team at Rivers Plumbing, Heating and Air have delivered top-notch service and cutting-edge support to the homeowners of Pleasanton. Regardless if your needs are heating repair, installation, or maintenance our team can provide efficient and reliable service. Our highly-trained team has the knowledge, tools, and training to help with all types of heating system needs. We are dedicated to treating each of our customers and their homes with respect.