Let Our Expert Plumbers Fix Your Water Heater Now!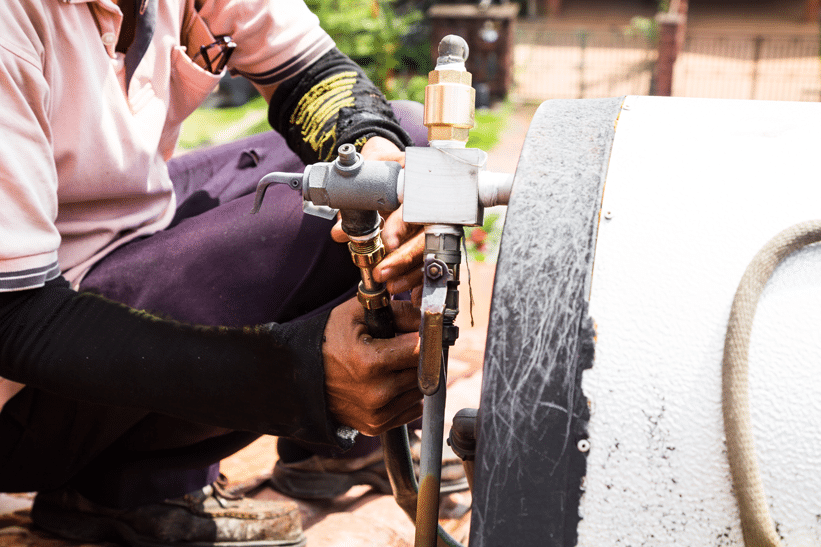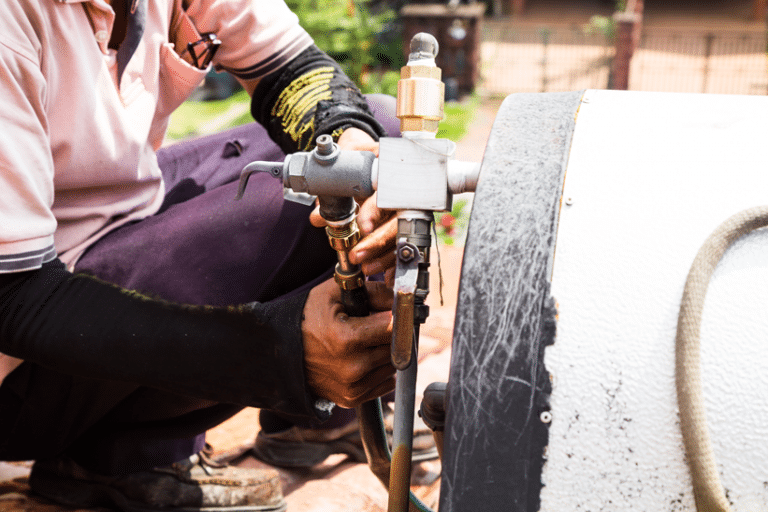 Rivers Plumbing, Heating and Air is family-owned and operated and we know how important it is that you be able to rely on the various plumbing fixtures in your home – especially the water heater.
For more than 30 years we have provided Danville homeowners with outstanding water heater plumbing support and have earned a strong reputation for being reliable and honest.
Traditional Tank Water Heaters
Variations of these systems have been around since the 1800s. Essentially, a large tank or reservoir holding up to 50 gallons of water is installed somewhere in your home and is filled to capacity.
Within the tank is a heat source, which is usually powered by electricity or by natural gas. This heat sources works non-stop to keep the entire reservoir of standing water heated to a specified temperature, usually 120F or less.
Some benefits of traditional water heaters are:
Inexpensive
Easy Installation
Easily adapted
When someone in the household takes a shower, or washes a load of clothes some amount of hot water is then used for said activity and must then be refilled and the entire amount of water reheated to the threshold temperature. This means that regardless of where you are or what you are doing, your water heater is constantly keeping a set amount of water heated to a set temperature waiting to be used.
While the idea of the tankless water heater has been around probably as long as the traditional tank systems, it has only been in recent years that the operations of these system became more sophisticated and mainstream. A tankless system is essentially a computer that is mounted on the wall, inside are sensors and chips that tell the system when to turn on and heat water. When the hot water faucet is engaged the tankless system senses this and turns on, it routes water through pipes that have been heated and thus heats the water. This process enables 2 to 3 gallons of water to be heated each minute, until the hot water faucet is turned off. When there is not a need for hot water by a member of the household, the tankless system sits dormant and does not use any energy or water. This makes them highly energy efficient. In fact, a tankless water heater can save a homeowner no less than $100 per year on their energy bill.
Some of the benefits of tankless water heaters are:
Convenience
Eco-friendly
Durability
Clean and Safe
Also, many tankless systems provide rebates and tax breaks for energy efficiency. While the initial investment to purchase and install a tankless water heating system is substantial, the long-term cost savings is worth it for most people.
Whether you would like more information about a tankless system and having one installed, or you would like to replace your traditional tank system with a new one our team of dedicated plumbing experts can provide you with outstanding service. We maintain thorough knowledge and information about all types of water heating systems and we can provide you with repair, installation, and maintenance services no matter the make or model of your unit. We work hard to complete service calls within the same day they were made and we provide emergency plumbing services. You will always receive up-front pricing and we offer a one-year warranty on parts and labor for all new installations.