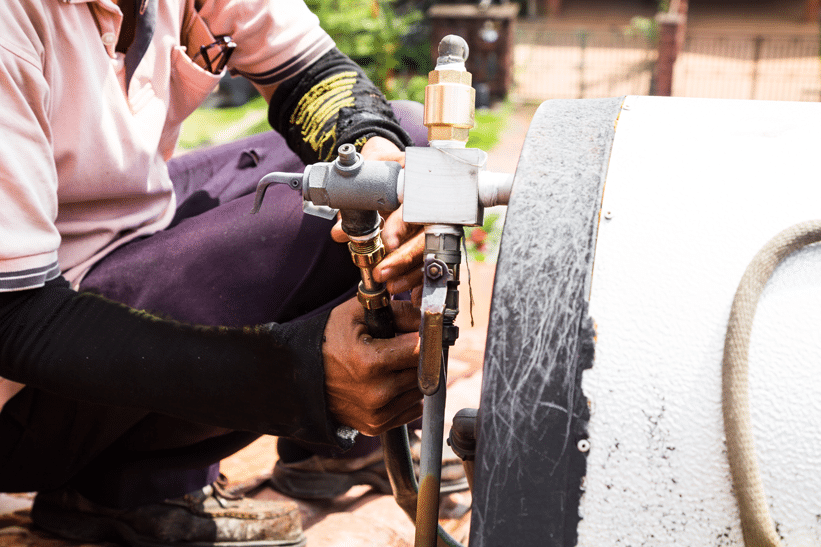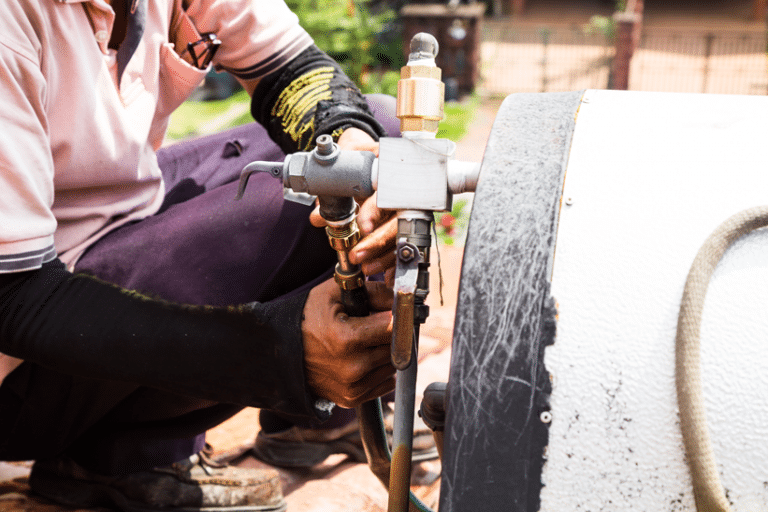 The team at Rivers Plumbing, Heating and Air has been providing the homeowners of Pleasanton with outstanding water heater support since 1979. Whether you need an existing water heater repaired or replaced our team of expert plumbers can help.
During the more than 30 years that we have been in business we have earned a solid reputation for high-quality services and exceptional customer care. When you see the Rivers Plumbing, Heating and Air red van arrive at your location, you can trust that our plumbing technician has the training and the tools to manage each issue that you are having with your water heater.
Traditional Tank Water Heaters
A tank water heater is pretty much just like it sounds. It has a vertical tank that must be installed and then filled with 20 to 50 gallons of water. These traditional units are much more common in homes throughout California because they have been available for many years and are relatively inexpensive. The water inside of the tank is always kept full and always kept heated to a specific temperature. While there are recommendations for what that temperature should be, it is ultimately the homeowner's decision.
Some reasons to have a conventional water heater include:
Inexpensive
Easy Installation
Easily adapted
The tank has a heat source inside, which is usually electric or natural gas powered. This heat source works round the clock to keep the entire capacity of water in the tank heated.
Tankless water heaters were designed in response to a big push for more energy-efficient homes and appliances. These systems are fundamentally designed to use less water and less energy. To do this they heat water only when it is needed and being used. As the name indicated, there is no tank. No reservoir that is constantly holding a set amount of water heated to a set temperature. Instead, when the hot water faucet is engaged, the system routes water through pipes that are heated and thus heating the water. Approximately two to three gallons of water per minute are heated in this fashion.
Having a tankless water heater is beneficial in the following ways:
Convenience
Eco-friendly
Durability
Once the hot water faucet is turned off, the system is turned off and sits dormant until it is needed again. This means that during times of non-use the tankless system is not using energy or water.
Call the Pleasanton Water Heater Experts at Rivers Inc.
No matter if you are interested in learning more about a tankless system and would like on installed, or your existing tank system needs repair our exceptional team of plumbers can help.
With more than 30 years of training and experience, we are more than qualified to handle a wide range of water heater needs. Our team maintains extensive training and information on all makes and models of water heaters and can provide you with information and service regardless of what your system is.
You will always receive up-front pricing and we will work hard to complete your service call the day it was made. We value your time and respect your home and our courteous and clean technicians will always clean up after themselves once the job is done. Think of Rivers Plumbing, Heating and Air as your friendly neighborhood plumbing, and rest assured that when you see that red van with the yellow lettering you've got the best plumbing specialist in the business addressing your needs.